Alajuela is the second most important province in Costa Rica. Throughout all its 9.750m2 of extension live 800 thousand people and specifically in the Alajuela's main downtown are approximately 250 thousands. During your stay in Alajuela you will be able to enjoy some important attractions located only a few minutes away, for example the Poas and Irazu Volcanoes. In addition, San Jose is less an hour away, due that, during your visit to Alajuela you will have access to all the attractions and important monuments of the Costa Rican's capital. If you are a football soccer fan or simply you would like to know a little more about the Costa Rican culture, Alajuela owns one of the most important soccer teams of Costa Rica, "Liga Deportiva Alajuelense", better known as "La Liga". This team and El Deportivo Saprissa, are the two teams with more fans and won championships in the country. So, it is a very good option to enjoy and learn about one of the most wide-awake passion activities we have in Costa Rica. Alajuela is the nearest city to the Juan Santamaria International Airport; this name is in memory of the National Hero "Juan Santamar?a". Due the Alajuela location, it offers many lodging options with facilities of transportation from and to the airport. From Alajuela is easy to get all the other important destinies in Costa Rica. Some of them are:
La Fortuna
(2 hours),
Manuel Antonio
(2 hours), Jaco (1.5 hours),
Tamarindo
or Flamingo (4 hours),
Monteverde
(4 hours) and Puerto Viejo (4 hours).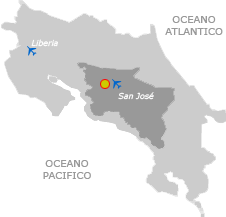 Central Valley
Costa Rica