How to get to La Fortuna from San Jose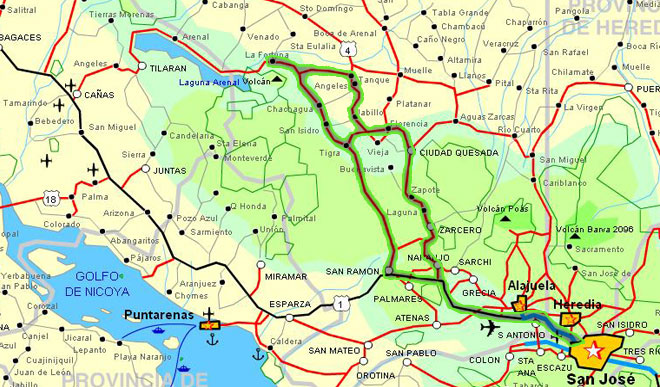 Le tomará entre 3 a 3 horas y media en llegar a La Fortuna desde San José por medio de su propio vehículo, dependiendo la ruta que escoja. Tiene dos diferente maneras de llegar al Volcán Arenal desde la capital de Costa Rica.

1 - Siga la carretera interamericana camino a Puntarenas. A 50 minutos encontrará una intersección a su derecha con destino hacia Naranjo. Tome esa ruta y continúe rumbo a Ciudad Quesada, es aproximadamente una hora y 45 minutos. Desde este punto quedan solamente 45 minutos de manejo. Pasará por pueblos como Florencia, Santa Clara y El Tanque. Siga las señales.

2 - Este es el trayecto más corto. Debe seguir la carretera interamericana rumbo a Puntarenas. Luego de una hora llegará al cruce de San Ramón, donde deberá tomar a la derecha rumbo hacia Arenal. Solo siga las señales. Pasará por comunidades como La Tigra y Chachagua. Es una carretera sin muchas desviaciones y le tomará alrededor de 2 horas más en llegar al coloso.

Importante
- El tiempo dependerá de la cantidad de tráfico.
- Le recomendamos manejar durante el día, ya que las carreteras no están lo suficientemente marcadas y podría ser un poco difícil manejar de noche.
- Si necesita parar durante el camino, esté pendiente de sus pertenencias.
Approximate duration time:
By car: 3-4 hours
Shuttle Service: 4 hours
Public bus: 6 hours
By flight: 40 minutes