Private transportation from La Fortuna
With our exclusively and fully customized transfer service,
you set the conditions
: departure time, pick up place, stops along the way and the destination.
For private transportation to La Fortuna or around Costa Rica, we offer you
fully equipped and with all insurance units
to enjoy a comfortable transfer from the beginning to the end. Our drivers have extensive experience and know perfectly Costa Rica. They will be more than happy to assist with any requirement you may have during your trip.

100% refundable
Up to 48 hours before the service

Free stops to take pictures, rest or admire the landscapes

Door to door service. Directly to your hotel or destination
Comfortable & Secure
Air conditioning, full extras, door to door service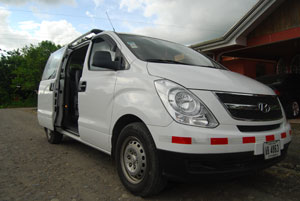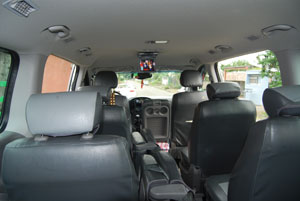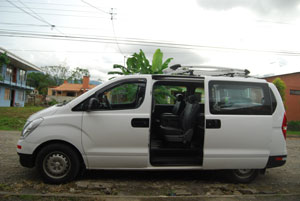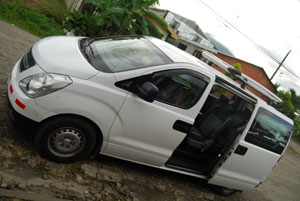 Important notes
Up to 6 passengers.
There is an extra cost in case your destination is far away from downtown.
Rates apply from 6:00 AM to 6:00 PM.
A $25 fee will be charged for the service if the pickup time is between 07:00 PM - 05:00 AM
Why book with us?
Secure reservations
Simple and quick booking
Experts in the area
Private transportation from
| From | To | Price | Duration | From | To | Price |
| --- | --- | --- | --- | --- | --- | --- |
| Arenal / La Fortuna | Daniel Oduber airport, Liberia | Check | 3:30 hrs | Daniel Oduber airport, Liberia | Arenal / La Fortuna | Check |
| Arenal / La Fortuna | Jaco Beach | Check | 3 hrs | Jaco Beach | Arenal / La Fortuna | Check |
| Arenal / La Fortuna | Juan Santamaria airport, San Jose | Check | 3:30 hrs | Juan Santamaria airport, San Jose | Arenal / La Fortuna | Check |
| Arenal / La Fortuna | Manuel Antonio | Check | 4 hrs | Manuel Antonio | Arenal / La Fortuna | Check |
| Arenal / La Fortuna | Samara | Check | 4 hrs | Samara | Arenal / La Fortuna | Check |
| Arenal / La Fortuna | San Jose | Check | 3 hrs | San Jose | Arenal / La Fortuna | Check |
| Arenal / La Fortuna | Tamarindo | Check | 4 hrs | Tamarindo | Arenal / La Fortuna | Check |
| Arenal / La Fortuna | Cahuita | Check | 4:30 hrs | Cahuita | Arenal / La Fortuna | Check |
| Arenal / La Fortuna | Conchal | Check | 4 hrs | Conchal | Arenal / La Fortuna | Check |
| Arenal / La Fortuna | Dominical | Check | 4:30 hrs | Dominical | Arenal / La Fortuna | Check |
| Arenal / La Fortuna | El Coco | Check | 3 hrs | El Coco | Arenal / La Fortuna | Check |
| Arenal / La Fortuna | El Tanque airport, La Fortuna | Check | 0:15 hrs | El Tanque airport, La Fortuna | Arenal / La Fortuna | Check |
| Arenal / La Fortuna | Flamingo | Check | 4 hrs | Flamingo | Arenal / La Fortuna | Check |
| Arenal / La Fortuna | Guapiles | Check | 2:30 hrs | Guapiles | Arenal / La Fortuna | Check |
| Arenal / La Fortuna | Heredia | Check | 3 hrs | Heredia | Arenal / La Fortuna | Check |
| Arenal / La Fortuna | Herradura | Check | 3 hrs | Herradura | Arenal / La Fortuna | Check |
| Arenal / La Fortuna | Liberia | Check | 3 hrs | Liberia | Arenal / La Fortuna | Check |
| Arenal / La Fortuna | Limon | Check | 4 hrs | Limon | Arenal / La Fortuna | Check |
| Arenal / La Fortuna | Manzanillo | Check | 4:30 hrs | Manzanillo | Arenal / La Fortuna | Check |
| Arenal / La Fortuna | Monteverde | Check | 3 hrs | Monteverde | Arenal / La Fortuna | Check |
| Arenal / La Fortuna | Montezuma | Check | 5 hrs | Montezuma | Arenal / La Fortuna | Check |
| Arenal / La Fortuna | Nosara | Check | 4:30 hrs | Nosara | Arenal / La Fortuna | Check |
| Arenal / La Fortuna | Ocotal | Check | 3 hrs | Ocotal | Arenal / La Fortuna | Check |
| Arenal / La Fortuna | Papagayo Gulf | Check | 3 hrs | Papagayo Gulf | Arenal / La Fortuna | Check |
| Arenal / La Fortuna | Playa Hermosa Guanacaste | Check | 3 hrs | Playa Hermosa Guanacaste | Arenal / La Fortuna | Check |
| Arenal / La Fortuna | Puerto Jimenez | Check | 6 hrs | Puerto Jimenez | Arenal / La Fortuna | Check |
| Arenal / La Fortuna | Puerto Viejo Limon | Check | 4:30 hrs | Puerto Viejo Limon | Arenal / La Fortuna | Check |
| Arenal / La Fortuna | Puntarenas | Check | 2:30 hrs | Puntarenas | Arenal / La Fortuna | Check |
| Arenal / La Fortuna | Rincon de la Vieja | Check | 4 hrs | Rincon de la Vieja | Arenal / La Fortuna | Check |
| Arenal / La Fortuna | San Jose by La Paz Waterfall | Check | 3:30 hrs | San Jose by La Paz Waterfall | Arenal / La Fortuna | Check |
| Arenal / La Fortuna | Sarapiqui | Check | 2 hrs | Sarapiqui | Arenal / La Fortuna | Check |
| Arenal / La Fortuna | Siquirres | Check | 3 hrs | Siquirres | Arenal / La Fortuna | Check |
| Arenal / La Fortuna | Tambor Beach | Check | 5 hrs | Tambor Beach | Arenal / La Fortuna | Check |
| Arenal / La Fortuna | Tilaran | Check | 1:30 hr | Tilaran | Arenal / La Fortuna | Check |