Private transportation from San Jose airpot
For private transportation from Juan Santamaria airport, SJ Costa Rica, we offer you fully equipped and secure units.
You set the conditions
: departure time, pick up place, stops along the way and the drop-off.

100% refundable
Up to 48 hours before the service

Free stops to take pictures, rest or admire the landscapes

Door to door service. Directly to your hotel or destination
Comfortable & Secure
Air conditioning, full extras, door to door service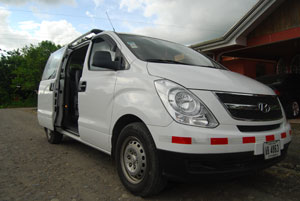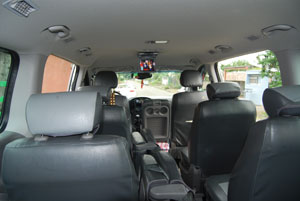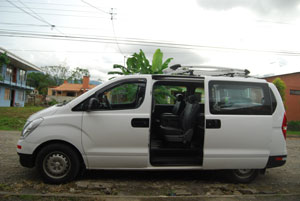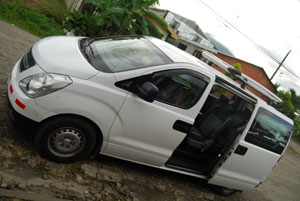 Important notes
Up to 6 passengers.
There is an extra cost in case your destination is far away from downtown.
Rates apply from 6:00 AM to 6:00 PM.
A $25 fee will be charged for the service if the pickup time is between 07:00 PM - 05:00 AM
Why book with us?
Secure reservations
Simple and quick booking
Experts in the area
Private transportation from
| From | To | Price | Duration | From | To | Price |
| --- | --- | --- | --- | --- | --- | --- |
| Juan Santamaria airport, San Jose | Daniel Oduber airport, Liberia | Check | 3:30 hrs | Daniel Oduber airport, Liberia | Juan Santamaria airport, San Jose | Check |
| Juan Santamaria airport, San Jose | Flamingo | Check | 4 hrs | Flamingo | Juan Santamaria airport, San Jose | Check |
| Juan Santamaria airport, San Jose | Jaco Beach | Check | 2:30 hrs | Jaco Beach | Juan Santamaria airport, San Jose | Check |
| Juan Santamaria airport, San Jose | La Fortuna de San Carlos | Check | 2:30 hrs | La Fortuna de San Carlos | Juan Santamaria airport, San Jose | Check |
| Juan Santamaria airport, San Jose | Manuel Antonio | Check | 3:30 hrs | Manuel Antonio | Juan Santamaria airport, San Jose | Check |
| Juan Santamaria airport, San Jose | Monteverde | Check | 3 hrs | Monteverde | Juan Santamaria airport, San Jose | Check |
| Juan Santamaria airport, San Jose | Samara | Check | 4 hrs | Samara | Juan Santamaria airport, San Jose | Check |
| Juan Santamaria airport, San Jose | Tamarindo | Check | 3 hrs | Tamarindo | Juan Santamaria airport, San Jose | Check |
| Juan Santamaria airport, San Jose | Cahuita | Check | 4:15 hrs | Cahuita | Juan Santamaria airport, San Jose | Check |
| Juan Santamaria airport, San Jose | Conchal | Check | 4 hrs | Conchal | Juan Santamaria airport, San Jose | Check |
| Juan Santamaria airport, San Jose | Dominical | Check | 4 hrs | Dominical | Juan Santamaria airport, San Jose | Check |
| Juan Santamaria airport, San Jose | El Coco | Check | 4 hrs | El Coco | Juan Santamaria airport, San Jose | Check |
| Juan Santamaria airport, San Jose | Guapiles | Check | 2 hrs | Guapiles | Juan Santamaria airport, San Jose | Check |
| Juan Santamaria airport, San Jose | Herradura | Check | 1:30 hr | Herradura | Juan Santamaria airport, San Jose | Check |
| Juan Santamaria airport, San Jose | La Fortuna by La Paz Waterfall | Check | 3:30 hrs | La Fortuna by La Paz Waterfall | Juan Santamaria airport, San Jose | Check |
| Juan Santamaria airport, San Jose | La Paz Waterfall - Poas | Check | 1 hr | La Paz Waterfall - Poas | Juan Santamaria airport, San Jose | Check |
| Juan Santamaria airport, San Jose | Liberia | Check | 3:30 hrs | Liberia | Juan Santamaria airport, San Jose | Check |
| Juan Santamaria airport, San Jose | Limon | Check | 4 hrs | Limon | Juan Santamaria airport, San Jose | Check |
| Juan Santamaria airport, San Jose | Manzanillo | Check | 4:30 hrs | Manzanillo | Juan Santamaria airport, San Jose | Check |
| Juan Santamaria airport, San Jose | Montezuma | Check | 5 hrs | Montezuma | Juan Santamaria airport, San Jose | Check |
| Juan Santamaria airport, San Jose | Nosara | Check | 4:30 hrs | Nosara | Juan Santamaria airport, San Jose | Check |
| Juan Santamaria airport, San Jose | Ocotal | Check | 4 hrs | Ocotal | Juan Santamaria airport, San Jose | Check |
| Juan Santamaria airport, San Jose | Papagayo Gulf | Check | 4 hrs | Papagayo Gulf | Juan Santamaria airport, San Jose | Check |
| Juan Santamaria airport, San Jose | Penas Blancas - Frontera | Check | 5 hrs | Penas Blancas - Frontera | Juan Santamaria airport, San Jose | Check |
| Juan Santamaria airport, San Jose | Perez Zeledon | Check | 3:30 hrs | Perez Zeledon | Juan Santamaria airport, San Jose | Check |
| Juan Santamaria airport, San Jose | Playa Hermosa Guanacaste | Check | 4 hrs | Playa Hermosa Guanacaste | Juan Santamaria airport, San Jose | Check |
| Juan Santamaria airport, San Jose | Puerto Viejo Limon | Check | 4:30 hrs | Puerto Viejo Limon | Juan Santamaria airport, San Jose | Check |
| Juan Santamaria airport, San Jose | Puntarenas | Check | 1:30 hr | Puntarenas | Juan Santamaria airport, San Jose | Check |
| Juan Santamaria airport, San Jose | Rincon de la Vieja | Check | 4 hrs | Rincon de la Vieja | Juan Santamaria airport, San Jose | Check |
| Juan Santamaria airport, San Jose | San Gerardo de Dota | Check | 2:30 hrs | San Gerardo de Dota | Juan Santamaria airport, San Jose | Check |
| Juan Santamaria airport, San Jose | San Ramon | Check | 1 hr | San Ramon | Juan Santamaria airport, San Jose | Check |
| Juan Santamaria airport, San Jose | Sarapiqui | Check | 2:30 hrs | Sarapiqui | Juan Santamaria airport, San Jose | Check |
| Juan Santamaria airport, San Jose | Tambor Beach | Check | 4:30 hrs | Tambor Beach | Juan Santamaria airport, San Jose | Check |
| Juan Santamaria airport, San Jose | Tilaran | Check | 2 hrs | Tilaran | Juan Santamaria airport, San Jose | Check |